Archive for the 'Design Trends' Category
Painted Kitchen Cabinets
Your cabinets may be too dark for your taste or too light, or just plain outdated. Painted cabinetry can give your kitchen that fresh and updated look. We'd like to share some of our favorite kitchens to inspire and spark that sense of creativity and design in you.
Gorgeous gray cabinets and island from House Beautiful. Read the rest of this entry »
How Patterns Improve Small Spaces
Having a small space can seem like the biggest obstacle to decorating and design. Pattern can actually make close quarters come alive and seem bigger, not smaller and cluttered as you might expect. Using patterns in small spaces can offer you a chance to show your personality and take risks. Since it's a small space, it's less of an investment in time and materials.
Let's take a look at how you can play with patterns in small spaces to add pizzazz to your home.
Incorporate wall coverings.
Today's wall coverings are nothing like the wallpaper from back in the day. New versions are like pieces of art with amazing colors and design. You can use wall coverings with bold patterns on an accent wall to give a small space an artistic feel or unexpected feel of luxury.
When I was a teenager, my sister and I repainted our room bright blue with various shapes on it—I remember tracing records for circles! That might not be a great idea today, but you can paint in patterns to create visual pop, from lines to swirls and other creative patterns.

Contemporary Bedroom by Portland & Building Designers LRIDesign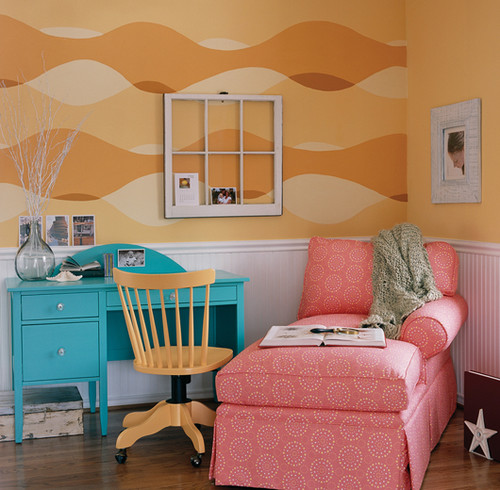 Spaces by Branford Interior Designers & Decorators Marie Grabo Designs
If you're not sure how to get started playing with patterns, you can begin by choosing one bold, patterned accent piece. For example, in a small bedroom boldly patterned bedding can be balanced by choosing solid pillows and throws—or vice versa.
Playing with patterns is fun and useful to turn your small space into an exciting and beautiful room. Whether they're added with paint, wall coverings, or textiles, pattern is a great way to renew your small space and add some pizzazz to your home.
Color Guild is comprised of more than 55 independent paint manufacturers from 14 different countries and is dedicated to the marketing, promotion and selling of paint products. The combined expertise and experience of the member companies makes Color Guild uniquely qualified to serve as a definitive resource on color and coatings. Color Guild colorists work tirelessly to predict and present trend colors 12 to 18 months in advance of their entrée into the marketplace. These color experts carefully separate the fads from the facts as they identify the color trends that keep consumers ahead of the ever-changing color curve making Color Guild a global paint and color authority.
Home Office Inspiration
More Americans are working from home, either for their workday or in addition to their office hours. With all of the time the population is putting in on their personal laptop, it's time to take a hard look at the home office.
You should be able to settle in, focus on the work at hand, but also have aesthetics that you enjoy in your workplace When it comes to home office décor, there are some amazing paint options that can add pizzazz and visual interest.
Traditional Home Office by Los Angeles Interior Designers & Decorators Emily Ruddo
How to Prep Your Home for Wallpaper
Wall coverings are coming back—in every style. From contemporary to traditional, the variety of offerings today are beautiful, artistic and can add visual pizzazz to your home. But before you can hang up wallpaper on an accent wall, in the nursery, or elsewhere in your home, you need to prep your walls. Here are some helpful tips.
If the room currently has old wallpaper on the walls, you have to remove it. If the old wallpaper is fabric-backed or strippable, you can carefully pull it from the walls. Start by gently pulling a corner of one strip at the baseboard until the entire section peels away. Some styles leave behind a paper backing, which needs to come off next by wetting the surface with DIF remover and scraping with a broad knife. Read the rest of this entry »
Bedroom ideas for the baseball fan.
Today we're thinking about diamonds—but not the precious gems. We're discussing baseball diamonds as the season's opening day approaches. If you have a baseball fan in your house, here are some ways you can reflect their love for the sport in your home.
Décor
This room uses a bold paint choice for the bunk beds and baseball themed linens to carry out its theme. The sheets, pillowcases and accent pillows add a touch of the sport without being overwhelming. The bats and balls by the window are a nice touch—you can easily imagine the kids who live here grabbing them and running outside to play catch.
March Madness Inspired Rooms
College basketball fans love their teams, and March Madness can get intense. A friend of mine scheduled surgery at its onset so he could recover while watching the games. I read an article claiming that lost worker productivity costs companies $1.7 billion during March Madness—although that statistic's validity has been debated. Either way, March Madness is coming and basketball fans are gearing up for some great action on the court. Bring some of that excitement home with you and try these basketball inspired rooms.
Bedrooms
Younger fans might take their love for basketball and, while they're still young enough to carry it off, apply it to the décor in their bedrooms.
You can have subtle touches of your basketball theme, implementing accent pieces here and there—an autographed, framed jersey on the wall; a vintage leather basketball; maybe picture frames.
Radiant Orchid decorations for Valentine's Day.

You take this year's Color of the Year, Radiant Orchid. Then you take this week's holiday, Valentine's Day. Put them together and you have the perfect excuse to add a pop of fresh color to your décor while trying out a new look in your home.
Depending on your desire for change and your home's current style, you can add a little touch of Radiant Orchid or go for a more dramatic effect. The color is in the purple-pink family and goes well with neutrals, particularly creams, grays and taupe. Pantone also recommends combining Radiant Orchid with turquoise, teal, light yellow, and even darker greens such as olive and hunter green.
Read the rest of this entry »
Decorating Your Outdoor Kitchen
It's cold outside now, but this weather won't last forever. Before we know it, spring will be here, and then glorious summer—the reason we endure these single-digit days. While you're snuggling down and stuck indoors, it's the perfect time to start brainstorming ideas for your home. Don't forget the outdoor spaces, too, including outdoor cooking and dining areas.
Summertime is when we want to be outdoors as much as possible. One way to encourage your family to be outdoors more is by spending time now thinking about your outdoor kitchen and how you can make it more comfortable and appealing. Here is some food for thought.
Consistent Style. When you're decorating your outdoor kitchen, you want it to flow with the style of your home. If you have a traditional home, you may want your outdoor kitchen to feature a stone fireplace, brick oven, wood components or other traditional materials. If your home is contemporary, sleek lines, stainless steel and simplicity may shine.
Relaxing and Comfy. Your outdoor kitchen needs to be comfortable—no hard chairs or stiff seats here. Plush chairs and cushioned settees made of water-resistant materials are great for kicking back after a summer's day, hopefully with a cool beverage in your hand. Make sure you have enough seating to accommodate guests you may want to invite over as well.
Side tables. Make sure you have places to put those icy cold drinks and plates. If your outdoor kitchen is breezy, make sure the furniture is heavy and solid enough to not be blown around in the wind. Read the rest of this entry »
Ring in the New Year with these DIY projects for your home.
Wood pallet project ideas embrace the inner do-it-yourselfer. They range on any level of expertise and the ideas never run out. From chic and elegant to country rustic, wooden pallets accentuate decorations and room color. These often discarded pieces can easily be attained. As they say, one person's trash is another person's treasure!
1. Coffee table. Paint, screws, and voila!
Quick tips for decorating this holiday season.
I want my Yuletide outlook to be "Joy to the World." Unfortunately, most days I feel more like "Mommy got run over by a reindeer." This time of year is so busy and full of to-dos and parties and shopping and hosting and baking, it can be overwhelming. I have to intentionally remind myself that these are all fun things and should not be a cause of stress. When it comes to decorating my home for the holidays, I want it to be an activity that is fun and joyful. Here are some ideas on how you can make decorating for the holidays a fun activity rather than just another "to do."
Alter Expectations
First off, there is only one Martha Stewart, and you are not her. I am not her. Only Martha can be Martha—so why do we kill ourselves aiming for perfection? Instead, let's look at our life and be realistic. If you have young children, a crazy job, a health struggle, a sick parent—whatever your current life issue, acknowledge it and adjust your expectations. For example, if you have a toddler (or kitten or puppy), you simply cannot have a tree that is decorated with exquisitely gorgeous breakable ornaments, because those ornaments will all end up trashed. Let's all give ourselves a moment and choose to skip decorations that simply do not mesh with our current life stage.
Prioritize
Since we're going to skip certain decorating tasks, next up is prioritizing. Think about the decorating that really matters to you. Is it the tree? Focus on that. Will you be traveling out-of-town on Christmas and your tree will die? Spend your time decorating elsewhere in the home. Or decorate the two rooms in your home where you spend the most time (family room and kitchen, for example) and skip the rest. Read the rest of this entry »