How Patterns Improve Small Spaces
Having a small space can seem like the biggest obstacle to decorating and design. Pattern can actually make close quarters come alive and seem bigger, not smaller and cluttered as you might expect. Using patterns in small spaces can offer you a chance to show your personality and take risks. Since it's a small space, it's less of an investment in time and materials.
Let's take a look at how you can play with patterns in small spaces to add pizzazz to your home.
Incorporate wall coverings.
Today's wall coverings are nothing like the wallpaper from back in the day. New versions are like pieces of art with amazing colors and design. You can use wall coverings with bold patterns on an accent wall to give a small space an artistic feel or unexpected feel of luxury.
When I was a teenager, my sister and I repainted our room bright blue with various shapes on it—I remember tracing records for circles! That might not be a great idea today, but you can paint in patterns to create visual pop, from lines to swirls and other creative patterns.

Contemporary Bedroom by Portland & Building Designers LRIDesign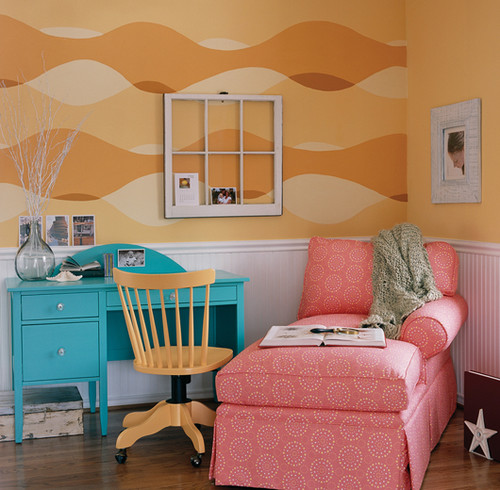 Spaces by Branford Interior Designers & Decorators Marie Grabo Designs
If you're not sure how to get started playing with patterns, you can begin by choosing one bold, patterned accent piece. For example, in a small bedroom boldly patterned bedding can be balanced by choosing solid pillows and throws—or vice versa.
Playing with patterns is fun and useful to turn your small space into an exciting and beautiful room. Whether they're added with paint, wall coverings, or textiles, pattern is a great way to renew your small space and add some pizzazz to your home.
Color Guild is comprised of more than 55 independent paint manufacturers from 14 different countries and is dedicated to the marketing, promotion and selling of paint products. The combined expertise and experience of the member companies makes Color Guild uniquely qualified to serve as a definitive resource on color and coatings. Color Guild colorists work tirelessly to predict and present trend colors 12 to 18 months in advance of their entrée into the marketplace. These color experts carefully separate the fads from the facts as they identify the color trends that keep consumers ahead of the ever-changing color curve making Color Guild a global paint and color authority.
Some people find mixing patterns to be a difficult task, but by using color to tie the patterns together make it easier to achieve.
Today's styles and trends include mixes of patterns for effect and interest, this has its roots in the fashion industry. This trend was started by the youth market and spread to high end fashion and then onto the home fashion industry.
To make this work for home interiors the key is using the same color combinations or at least a common color.
This is a simple combination of patterns, each using the same colors or coral, gray and cream to create interest.
This room used a mix of patterned flowers and stripes in the same colors of olive, cream and deep plum with the walls in cream, an upholstered stool in olive and a throw in deep plum, each coordinating with the patterns and making a warm and cozy setting.
Here is a perfect example of mixing patterns, large pink stripes that are repeated with an added green stripe pulled together with a sweet pink and its complement of green.
This textile used a variety of patterns in the same colorways, black, gold, terra cotta, red and brown for an attractive tribal motif.
You can see by these photos that color is the glue that makes the mixing of patterns possible without jarring differences and uncoordinated patterns and colors.